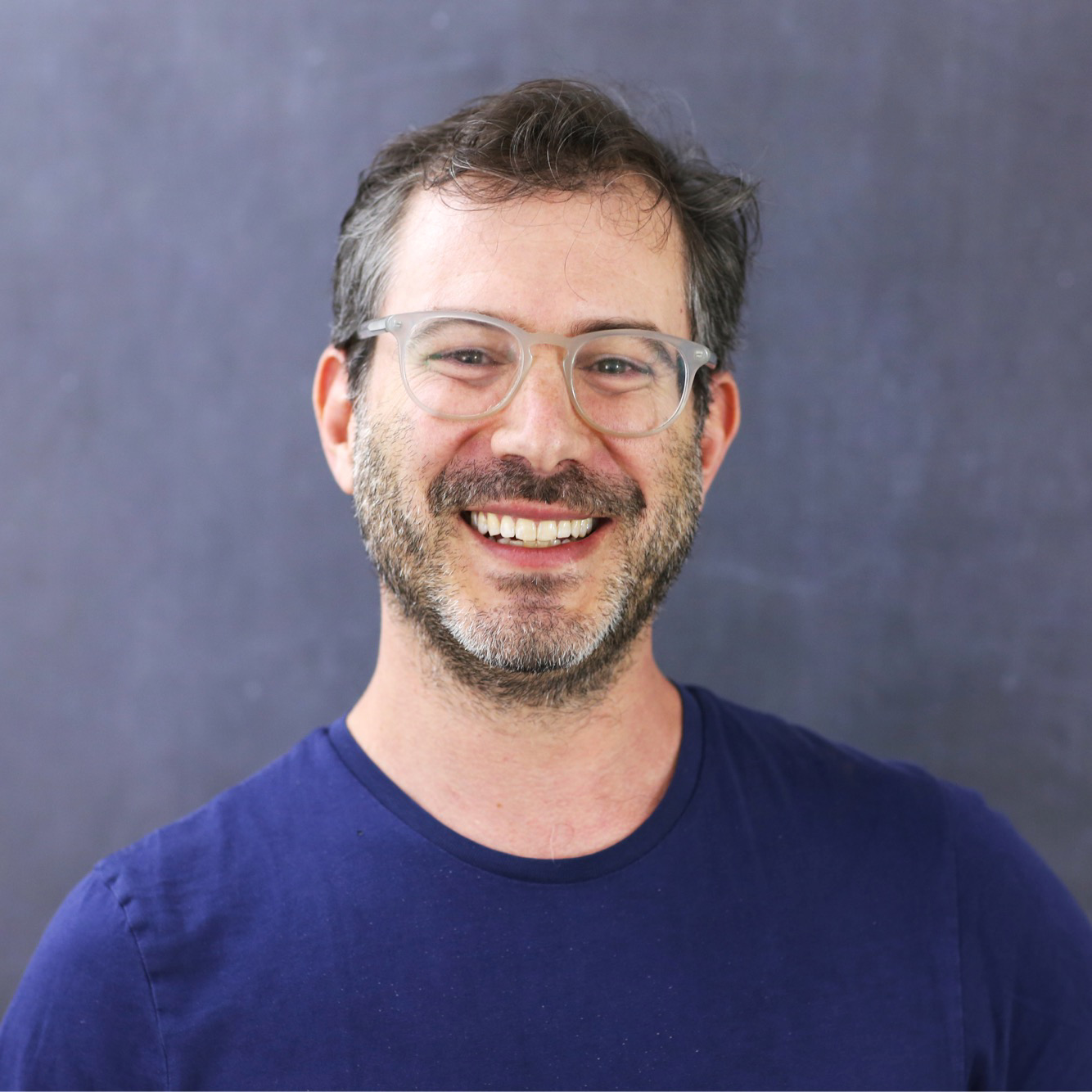 David Fenigstein
UX designer
Society for Women's Health Research
Website Redesign & Mentorship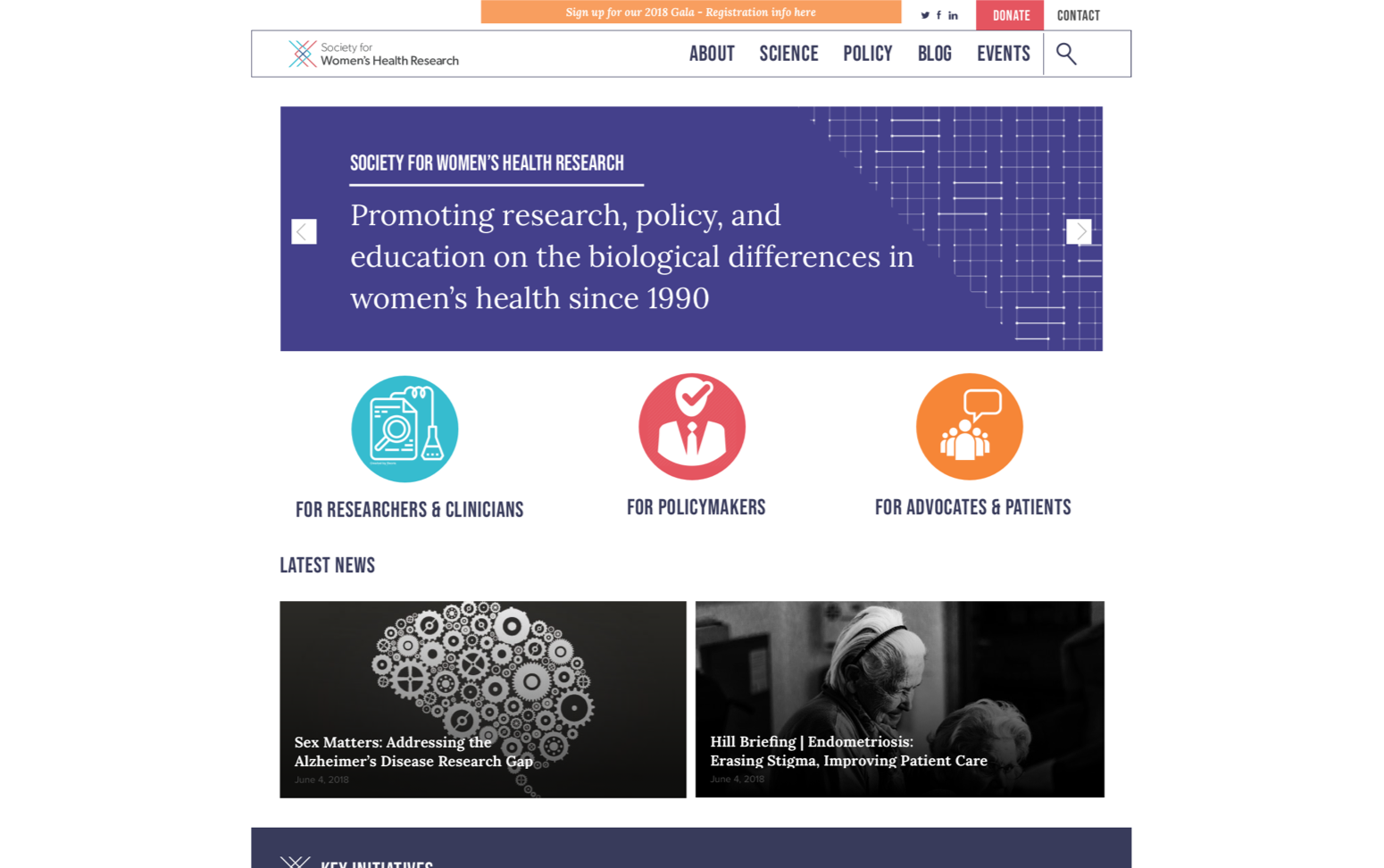 The Society for Women's Health Research (SWHR) is a national nonprofit based in Washington, D.C, that is widely recognized as a thought leader in promoting research on biological differences in disease and improving women's health through science, advocacy, and education.
Under my supervision as the design lead, a group of students in a UX Course I taught at George Washington University offered to provide an updated and improved website redesign, which the SWHR team graciously accepted.
The major elements that I want to highlight with this project are the website redesign process and my mentorship of associates.
Parameters
Client: Society for Women's Health Research

Timeframe: 4 weeks

Goal: To provide SWHR with desktop website redesign sample pages along with UX deliverables to aid in the full redesign
Deliverables
My responsibilities in bold
Stakeholder Interviews

Google Analytics

Personas

Card sorting

Sitemaps

Wireframes

Style Guide for Web

High-fidelity prototypes

User testing
Tools
Sketch

InVision

Trello

Google Analytics

Proven By Users

xml-sitemaps
Stakeholder Interviews
At the discovery phase of this project, my students and I conducted interviews with the leadership team at SWHR in order to gain an understanding of the goals and opportunities for improvement of the institute's website.
Key Findings:
Most concerns focused on content rather than design.

Much of the information on the site was outdated.

Users of the site had difficulty finding key information related to science, research, and policy.

The donate page needs more instructions for users.

Much of the content about the institution is unnecessary for the majority of users.
How we will address these issues:
Redesign the information architecture and navigation to address findability of key information.

Create personas to guide design for donors, researchers, and visitors

Site navigation needed major improvement, especially the science & research sections.

Address content strategy to increase readability of individual pages

Provide a visually appealing high definition User Interface design.

Redesign the donation form to address clarity and simplicity.
Information Architecture and Page Navigation
To improve site navigation and content organization, I first mapped the pages of the site with the tool "xml-sitemaps.com" and delegated a student to create a visual sitemap for the existing site.
I then conducted a cord sorting activity using "Proven By Users" and built a sitemap based on those results.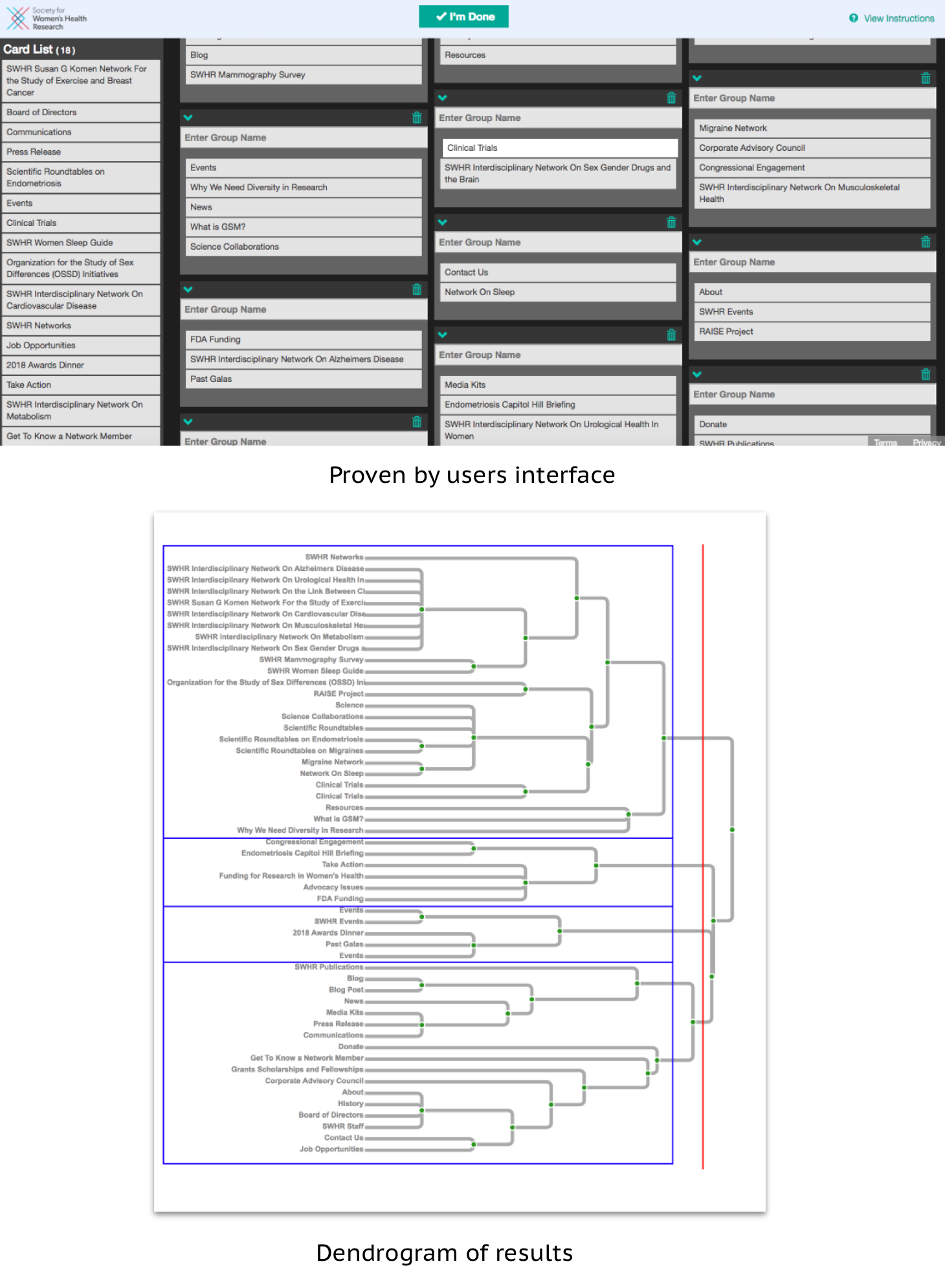 Card Sort method
Type of card sort: Open
Reasoning: Our stakeholder interviews revealed that many of the pain points resulted from site organization, so users were not restricted to the current nav headings allowing for a more holistic reorganization of the site.
Subjects: The stakeholders provided us a list of past users of the site who we reached out to asking for their participation.
Results: A dendrogram tree method was used which provided information regarding how strong the connections between different pieces of content.
How this influenced the sitemap recommendations: The results indicated that there were 4 major groups as opposed to the 5 used on the current website, easing navigation for the user, and guiding the customer's content strategy.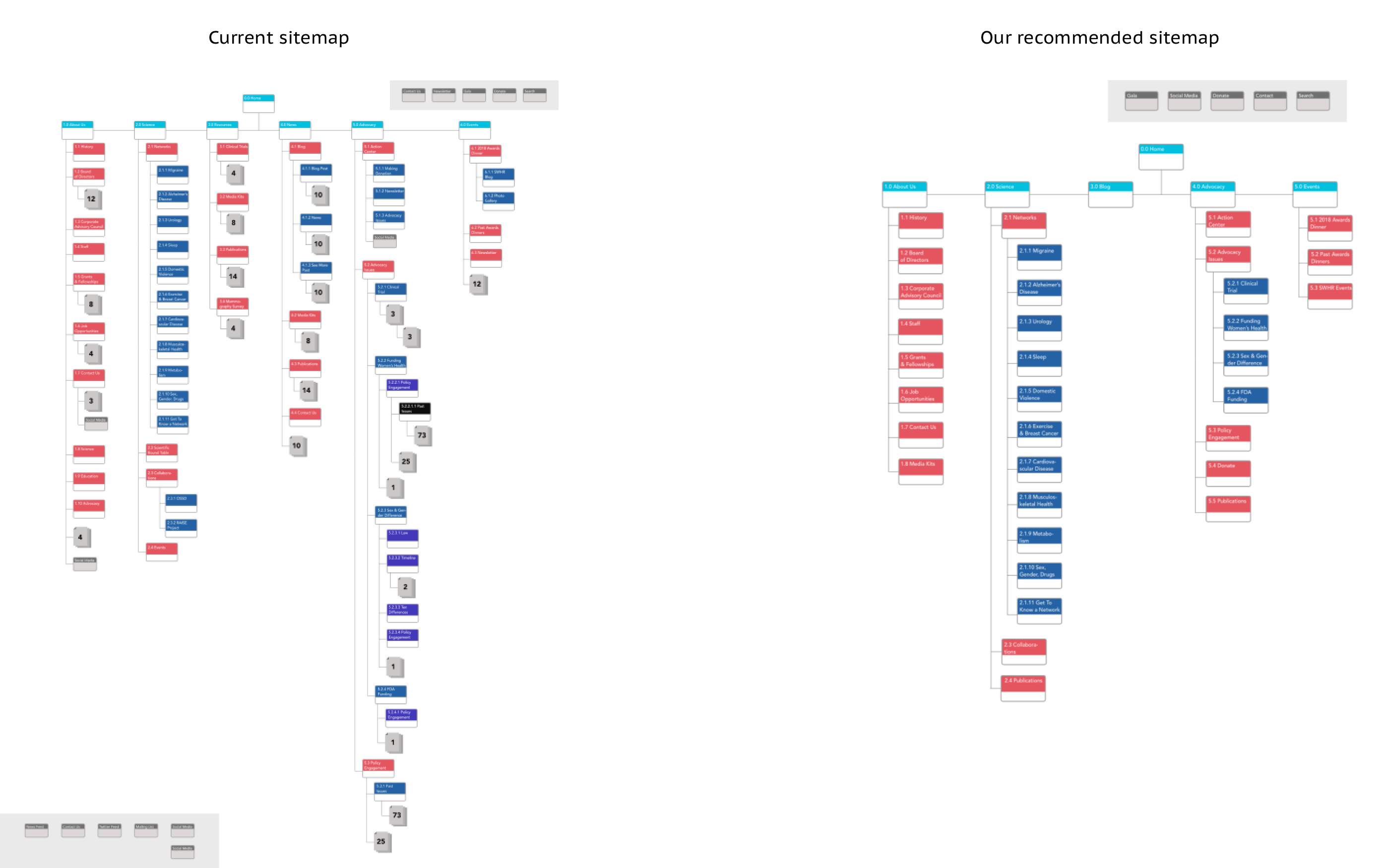 Wireframes
Based on our new website navigation, we created wireframes for each of the recommended landing pages. While some of design work for this was given to my students, I was responsible for the design of the Science and Science Network wireframes as seen below.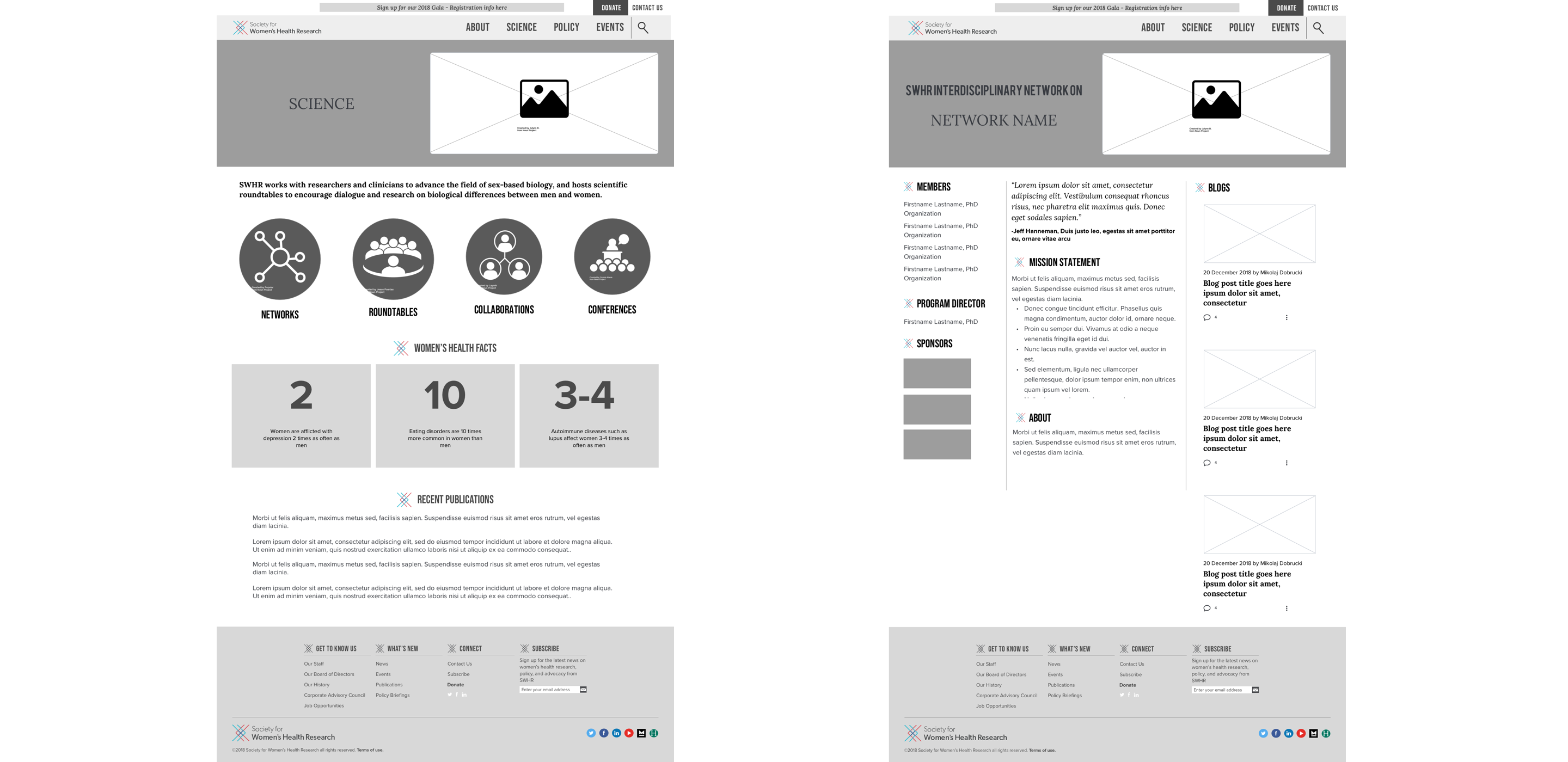 Sample pages of the final UI provided to the customer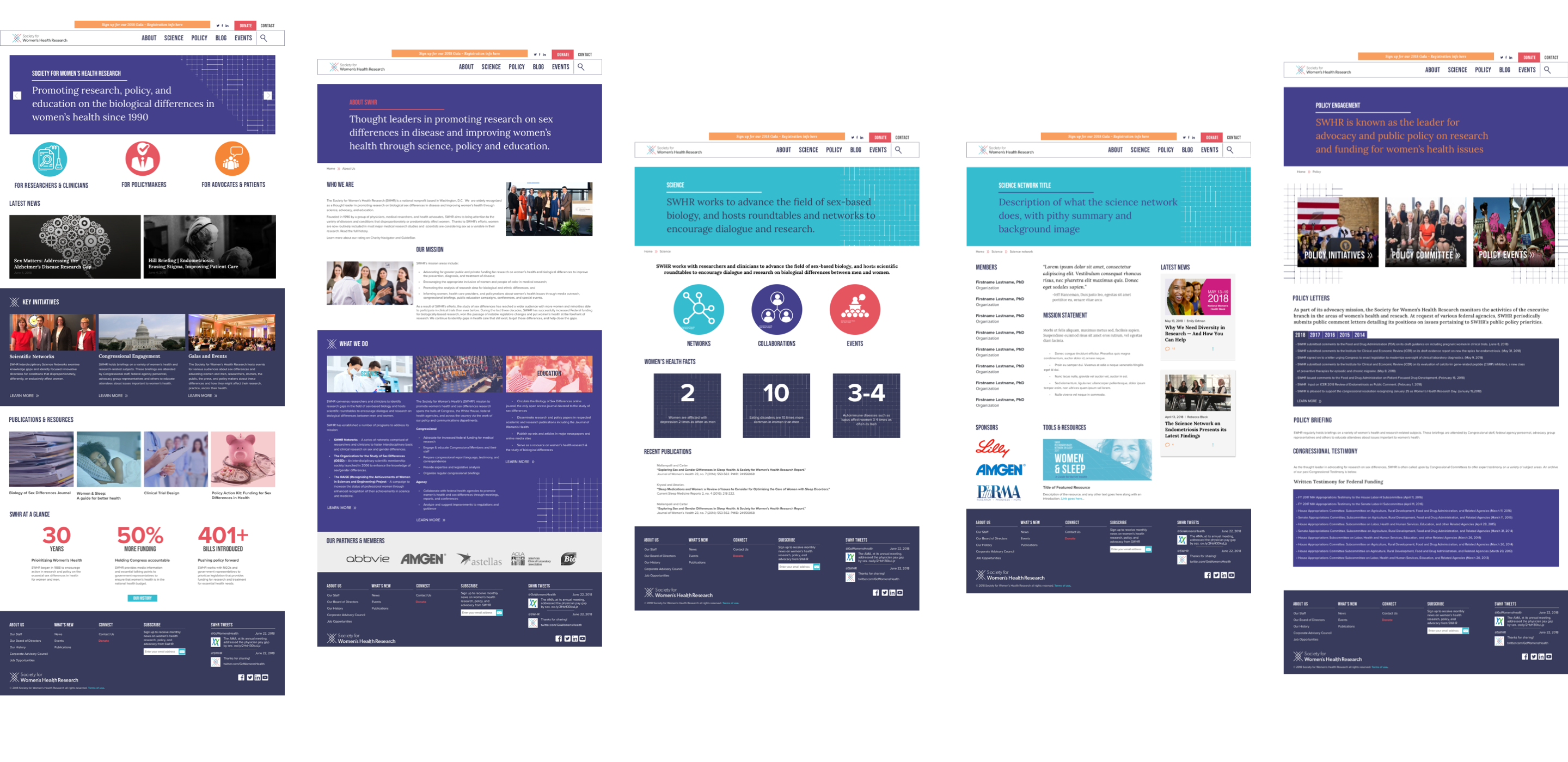 Learnings and next steps
A risk in a student project such as this is that while the students have minimal experience in the field, we want to be able to provide the customer with professional level work that will be valuable.
Student experience, under my mentorship, turned out not to be a problem. Following our delivery, SWHR updated the website incorporating many of our recommendations, particularly the navigation and landing page design. This project was a success both as a powerful student experience and as a valuable product for the client.
In future student projects, I would prefer to change the timeline and spend less time on the design work allowing for more user testing. I believe this would both provide value to the customer because we could have a more complete list of pain points, and value to the students to gain a greater understanding of the testing and prototype iteration process.